Rodney King's former attorney has spoken out after video was released showing Tyre Nichols being beaten by police, saying officers behaved "like a pack of wolves" and hit him "without any regard" to his physical condition.
In the video, published on Friday, Nichols was repeatedly punched and kicked after being detained by police in Memphis, Tennessee, on January 7. Days later the 29-year-old father died in hospital.
Five officers—Tadarrius Bean, Demetrius Haley, Emmitt Martin III, Desmond Mills Jr. and Justin Smith—have been charged with second-degree murder, aggravated assault, aggravated kidnapping, official misconduct and official oppression.
Lawyers for Mills and Martin have said they plan to plead not guilty. It is not yet known how the other three officers will respond.
The footage immediately sparked parallels with video showing the beating of Rodney King, a Black man who was beaten by police in March 1991 whilst being detained after he refused to pull over.
Video of King's beating was recorded by George Holliday, an amateur videographer, and sent to local network KTLA television sparking a media sensation.
John Burris, King's former attorney, reacted to the video of Nichols being punched and kicked during an appearance on NewsNation.
He said: "When I looked at this young man Tyre beaten and laid aside, my heart went out to him because I can just see that he didn't know if he was going to live or die during the course of this.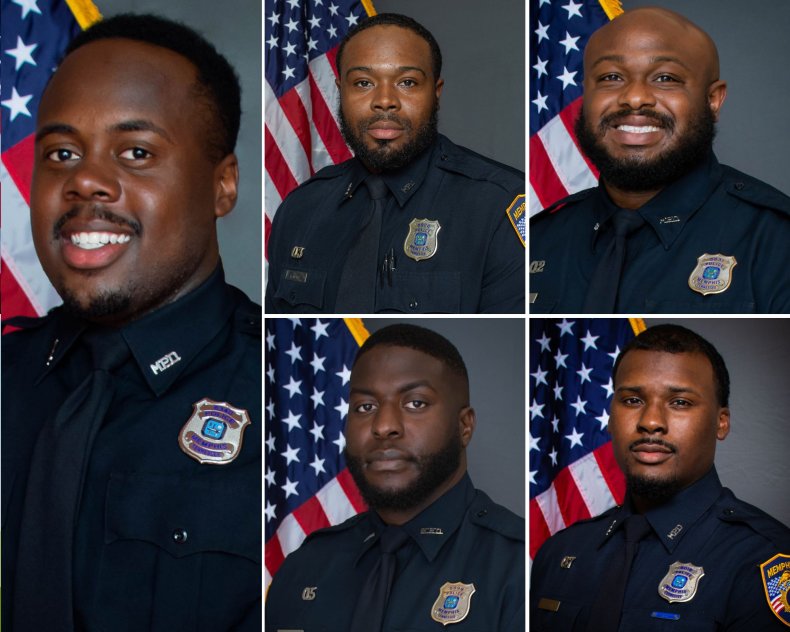 "Obviously he did die but there was a point, I'm certain, that he couldn't believe this was happening to him because he hadn't done anything to justify it.
"These officers walking around like a pack of wolves and each time getting their licks in, each one hitting him without any regard to the physical condition he was in."
In 1992 several officers were acquitted after being charged with use of excessive force in King's arrest, sparking six days of rioting across Los Angeles which left 63 people dead.
Burris later represented King in a civil case against the Los Angeles Police Department, winning a $3.8 million judgement.
Burris compared the two incidents directly, noting that whilst King didn't die during the 1991 beating he "died in an emotional way."
He said: "Well they're both obviously very vicious type beatings. Rodney King though was beaten over 60 times throughout his body, fortunately for him he really just received fractures of his face and head, and bruises all throughout his body, but he survived. But I will tell you, he didn't survive in one sense. Psychologically he never recovered from the beating he took, he just never did.
"Before the beating he was known as Glen King, after the beating he became Rodney King and he was never comfortable with that, he was never able to get his life in order – get back into an orderly existence. The beating itself, although he didn't die, he died in many ways.
"I remember his testimony at the trial. He put his hands up and he said 'I thought I was going to die then,' when they were beating him all the time, but he didn't. He died in an emotional way as opposed to physically."