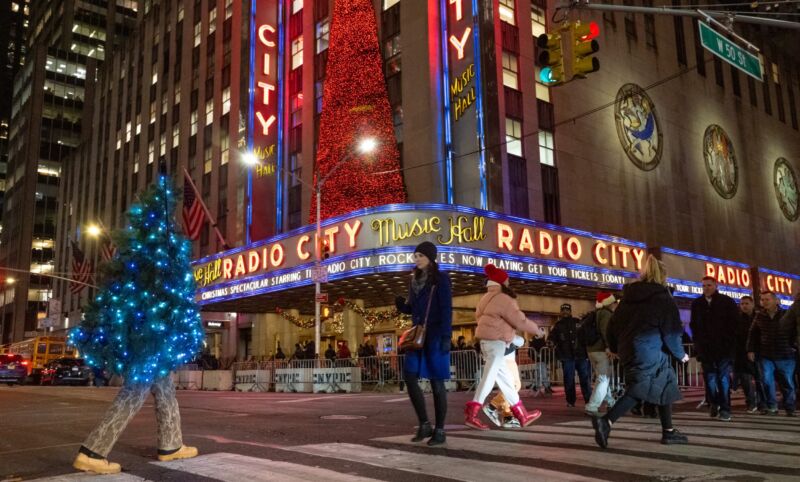 The operator of Madison Square Garden and Radio City Music Hall is being probed by New York's attorney general over the company's use of facial recognition technology to identify and exclude lawyers from events. AG Letitia James' office said the policy may violate civil rights laws.
Because of the policy, lawyers who work for firms involved in litigation against MSG Entertainment Corp. can be denied entry to shows or sporting events, even when they have no direct involvement in any lawsuits against MSG. A lawyer who is subject to MSG's policy may buy a ticket to an event but be unable to get in because the MSG venues use facial recognition to identify them.
In December, attorney Kelly Conlon was denied entry into Radio City Music Hall in New York when she accompanied her daughter's Girl Scout troop to a Rockettes show. Conlon wasn't personally involved in any lawsuits against MSG but is a lawyer for a firm that "has been involved in personal injury litigation against a restaurant venue now under the umbrella of MSG Entertainment," NBC New York reported.
James' office sent a letter Tuesday to MSG Entertainment, noting reports that it "used facial recognition software to forbid all lawyers in all law firms representing clients engaged in any litigation against the Company from entering the Company's venues in New York, including the use of any season tickets."
"We write to raise concerns that the Policy may violate the New York Civil Rights Law and other city, state, and federal laws prohibiting discrimination and retaliation for engaging in protected activity," Assistant AG Kyle Rapiñan of the Civil Rights Bureau wrote in the letter. "Such practices certainly run counter to the spirit and purpose of such laws, and laws promoting equal access to the courts: forbidding entry to lawyers representing clients who have engaged in litigation against the Company may dissuade such lawyers from taking on legitimate cases, including sexual harassment or employment discrimination claims."
The AG's office also said it is concerned that "facial recognition software may be plagued with biases and false positives against people of color and women." The letter asked MSG Entertainment to respond by February 13 "to state the justifications for the Company's Policy and identify all efforts you are undertaking to ensure compliance with all applicable laws and that the Company's use of facial recognition technology will not lead to discrimination."
MSG says policy isn't illegal
In a statement provided to Ars, an MSG spokesperson defended the policy of excluding lawyers and denied any illegal actions.
"To be clear, our policy does not unlawfully prohibit anyone from entering our venues and it is not our intent to dissuade attorneys from representing plaintiffs in litigation against us," MSG said. "We are merely excluding a small percentage of lawyers only during active litigation. Most importantly, to even suggest anyone is being excluded based on the protected classes identified in state and federal civil rights laws is ludicrous. Our policy has never applied to attorneys representing plaintiffs who allege sexual harassment or employment discrimination."
In a press release, James said that MSG "should treat all patrons who purchased tickets with fairness and respect. Anyone with a ticket to an event should not be concerned that they may be wrongfully denied entry based on their appearance, and we're urging MSG Entertainment to reverse this policy."
"MSG Entertainment cannot fight their legal battles in their own arenas," James said. In addition to Madison Square Garden and Radio City Music Hall, MSG owns the Hulu Theater and Beacon Theatre in New York.