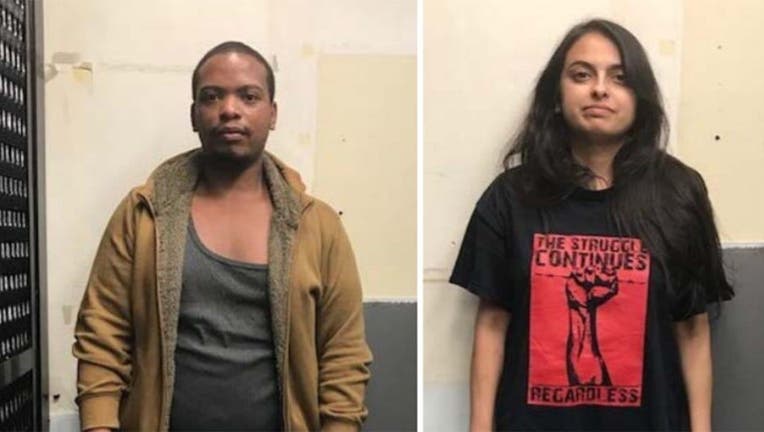 NEW YORK – A lawyer who purchased gasoline that another lawyer used in firebombing an unoccupied New York City police car in Brooklyn during protests over George Floyd's death in 2020 was sentenced Thursday to a year and a day in prison.
Colinford Mattis was also ordered to pay just over $30,000 to the New York Police Department for the destroyed vehicle.
An attorney for Mattis declined to comment. Mattis is expected to start his sentence in March.
Mattis and Urooj Rahman were arrested May 30, 2020, as demonstrations and protests raged in the Fort Greene section of Brooklyn over the killing of Floyd at the hands of police in Minneapolis.
Rahman was accused of throwing a "Molotov cocktail" into an NYPD car.
After finding an NYPD vehicle, Rahman is accused of getting out of the passenger's side front door of the minivan, approaching the NYPD vehicle, and then lighting and throwing a device consisting of a glass bottle containing an incendiary chemical or "Molotov cocktail" into the SUV through a previously broken window.
The Molotov cocktail set fire to the console. Rahman then got back in the minivan and they drove off, authorities said.
"Instead of using their privileged positions to change society lawfully, they used a Molotov cocktail and sought to incite others to adopt their violent ways," prosecutors wrote in a court filing.
The incident was captured on video surveillance cameras.
Law enforcement officers saw the incident followed minivan and stopped it a short time later.  Mattis, the driver, and Rahman, the passenger, were arrested.
Police found a lighter, a Bud Light beer bottle filled with toilet paper, and a liquid suspected to be gasoline in the passenger seat and a gasoline tank in the rear of the vehicle.
NYPD officers and cruisers targeted by protesters
A witness provided authorities with a picture of Rahman and Mattis in the tan minivan earlier in the night with Rahman holding a Molotov cocktail.
Rahman had allegedly attempted to distribute Molotov cocktails to the witness and others so they could use them.
Both Mattis and Rahman have been disbarred. Rahman was sentenced in November to 15 months in prison.
The Associated Press contributed to this report.