Led Zeppelin was like a championship baseball team — every member was essential to making the magic happen. Guitarist Jimmy Page and singer Robert Plant commanded much of the spotlight. Bassist John Paul Jones and drummer John Bonham didn't receive as much credit for Zep's music. Those in the know understood Bonham was different from his peers, but Jones said his rhythm section cohort never got the credit he deserved as a songwriter. The only trouble with that is that Jones isn't 100% right.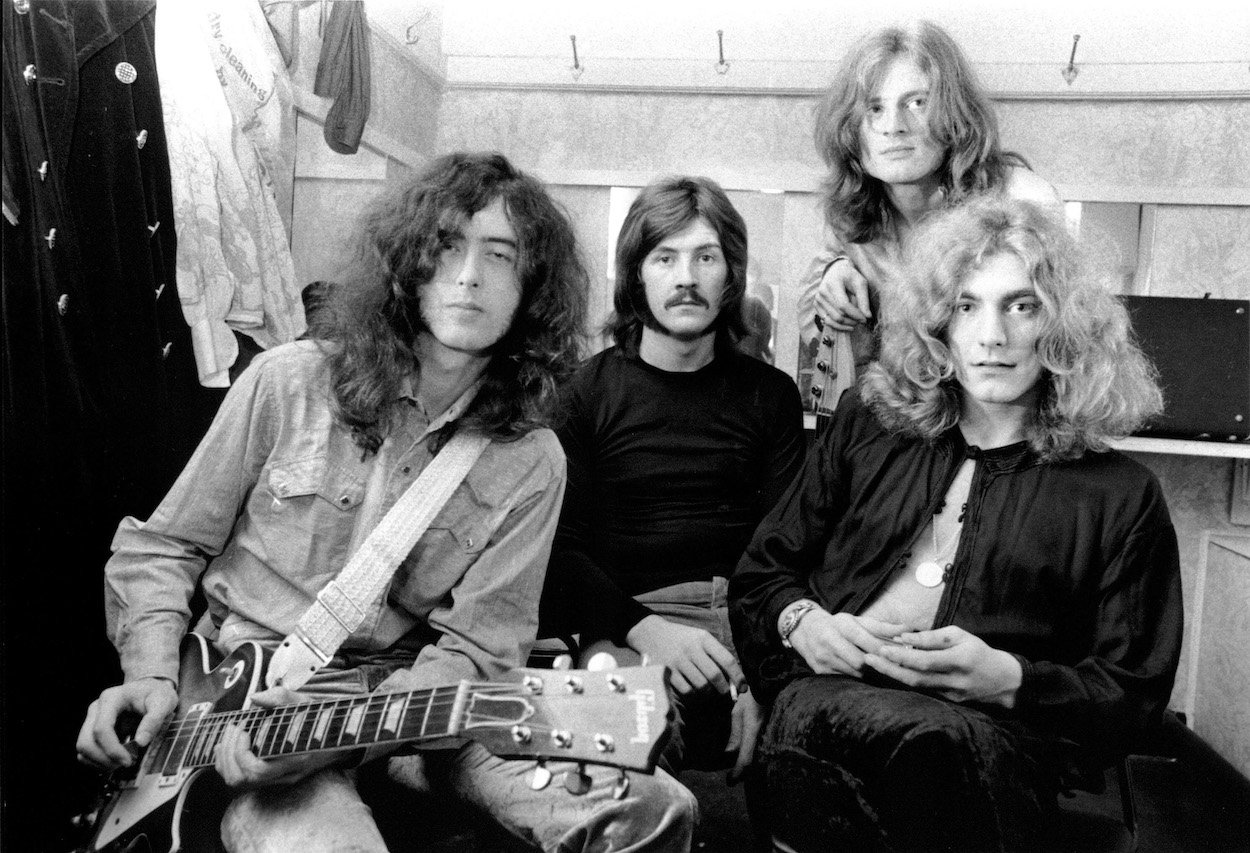 John Paul Jones said John Bonham never received much credit for helping to write Led Zeppelin songs
Bonham was a revolutionary drummer even before he plied his trade with Led Zeppelin. He formed a vision for his drumming when he was still a fledgling player — to have his drums complement the guitar instead of taking a back seat to it. Page was the perfect guitarist to make it a reality. His goal for Led Zeppelin I was to make it a showcase for the entire band. Bonzo made his presence felt in the first few seconds of Led Zeppelin's debut. He continued to do so as the band achieved worldwide fame and sold millions of albums worldwide. 
Jones needed just a few words to describe Bonham's drumming skills. Still, the bassist said he and his rhythm section partner never received proper credit for what they brought to Led Zeppelin (per Beast author C.M. Kushins):
"In all honesty, I'd say that I probably should have paid much more attention to the writing credits in the earlier days of Zeppelin. In those days, I'd just say, 'Well, I wrote that, but it's part of the arrangement,' or something like that, and I'd just let it go. Not realizing at the time that that part of the arrangement had more to do with the writing than just arranging something. John Bonham's contribution was always much more than he even received credit for. In fact, I know it was."

John Paul Jones
Jones stood up for his bandmate and said Bonham never got the credit he should have for what he added to Led Zeppelin's songs. Unfortunately for Jones, he's not even close to being 100% right.
Jones wasn't even close to being right about Bonham's writing credits for Zeppelin tunes
The only problem with Jones saying Bonham never got credit for his writing contributions is that he's not 100% right.
Bonham received writing credits for songs on several Led Zeppelin albums, and not just for his drum solo tracks "Moby Dick" and "Bonzo's Montreux." Per ASCAP (the American Society of Composers, Authors, and Publishers), Bonham received writing credits on 24 Zep songs, and most of those ended up being album cuts.
Everything from "Heartbreaker" to "Whole Lotta Love" to "Kashmir" to "Good Times Bad Times" bore Bonham's name in the writing credits. Some tunes, such as "Bathroom Sound" and "Driving Through Kashmir," transformed into album tracks "Out on the Tiles" and "Kashmir," respectively. "The Girl I Love She Got Long Black Wavy Hair" surfaced on The Complete BBC Sessions, though Led Zeppelin fans recognize it as the music that segued into "Moby Dick" in concert.
Page also had a hand in Bonham receiving credit for Led Zeppelin songs. The guitarist freely shared credit on songs based on blues standards, such as "How Many More Times" and "Lemon Song." Bonham received a writing credit for "Out on the Tiles" even though it was only loosely based on a drinking song Bonham often hummed around the band. 
Thumbs up to Jones for sticking up for his bandmate, but Bonham received more credit than most drummers do. Page and Plant wrote much of Led Zeppelin III during a vacation in Wales; they took most of the writing credits for that album. Page fleshed out early demos for songs such as "The Rain Song" and "Ten Years Gone," it's almost a miracle Bonham received 24 writing credits on Led Zeppelin songs during the band's career.
Perhaps Jones meant Bonham's drumming was so impactful and unique that he deserved credit for every beat he played. The world of music writing is a bit different, though. Credit often comes down to who created the melody, lyrics, and arrangement. Bonham didn't do much of that, but he received credit for his contributions to Led Zeppelin songs.
Bonzo's death signaled the end of the band
Bonham died in September 1980 after a day of binge drinking ahead of Led Zeppelin's upcoming North American tour. The band called off the tour and then called it quits by the end of the year. Page said there was no way for Led Zeppelin to replace Bonham.
It wasn't just Bonzo's individual playing style that couldn't be replicated. Led Zeppelin couldn't replace Bonham because he was the one who helped shape their songs into what they became. He was one-quarter of a unit that shared a mind when they played live. Zep developed that collective mindset by playing together for 12 years. There was no way a newcomer could possibly duplicate Bonham's ingrained knowledge of how Page, Jones, and Plant performed live.
John Paul Jones said John Bonham deserved more credit than he got for Led Zeppelin songs. Still, Bonzo was one of the few drummers in any band to receive writing credits on a substantial number of their bands' songs. Led Zeppelin breaking up instead of soldiering on without Bonham shows that he was integral to the band no matter how many writing credits he earned.
For more on the entertainment world and exclusive interviews, subscribe to Showbiz Cheat Sheet's YouTube channel.