LA JOLLA — 
The Farmers Insurance Open decided to embrace its breathtaking oceanside address and make everyone seasick during Saturday's frenetic final round. Green-to-the gills ill, in fact, as all that leaderboard churn required an unblinking attention span and fistful of Dramamine.
It's all Merlot-cap-tipping, fuchsia-adjacent-joggers-wearing Sam Ryder and Max Homa for hours, right? Wait, is that two-time Farmers winner Jason Day charging toward the top like a grumpy rhino?
Here comes win-starved fan favorite Rickie Fowler … and there he goes. Is that Keegan Bradley draining three birdie putts in a five-hole stretch to rise from the pretzeled humanity in chase? Welcome to the chaos, Sungjae Im. Thanks for stopping by the house party, Hideki Matsuyama.
When Collin Morikawa threatened to fist-pump his shoulder out of socket as he soared to 10-under on No. 16, the surfboard-snatching combinations in play would cause a safe cracker to sweat.
In the end, Homa — a San Diego-loving, Padres-loathing player seemingly destined to become the PGA Tour's comedic voice — buckled in tightest, held on longest and withstood the rising and crashing competitive waves to become a Farmers champion.
It was his sixth victory on Tour with two-thirds of those coming in his native California.
"Everybody else looks at me as a social media guy, but I'm a pretty darn good golfer," said Homa, who began the day five strokes back and won by two at 13-under. "The results help you kind of build that foundation. I mean, I like to say dumb things and make dumb jokes and observe weird stuff and tweet about it. You know, kid, I guess.
"But when I work, when I practice and I play tournaments, this is what I love. I love what today was. It was incredible."
The ride became a white-knuckler on the back nine of Torrey Pines' routinely ruthless South Course. Putts lipped out. Others crawled to the edge, waited for full theatrical affect, then tumbled in as fans roared.
Fates confidently strolled the center of shamrock-green fairways one minute, then duck-hooked into canyons the next.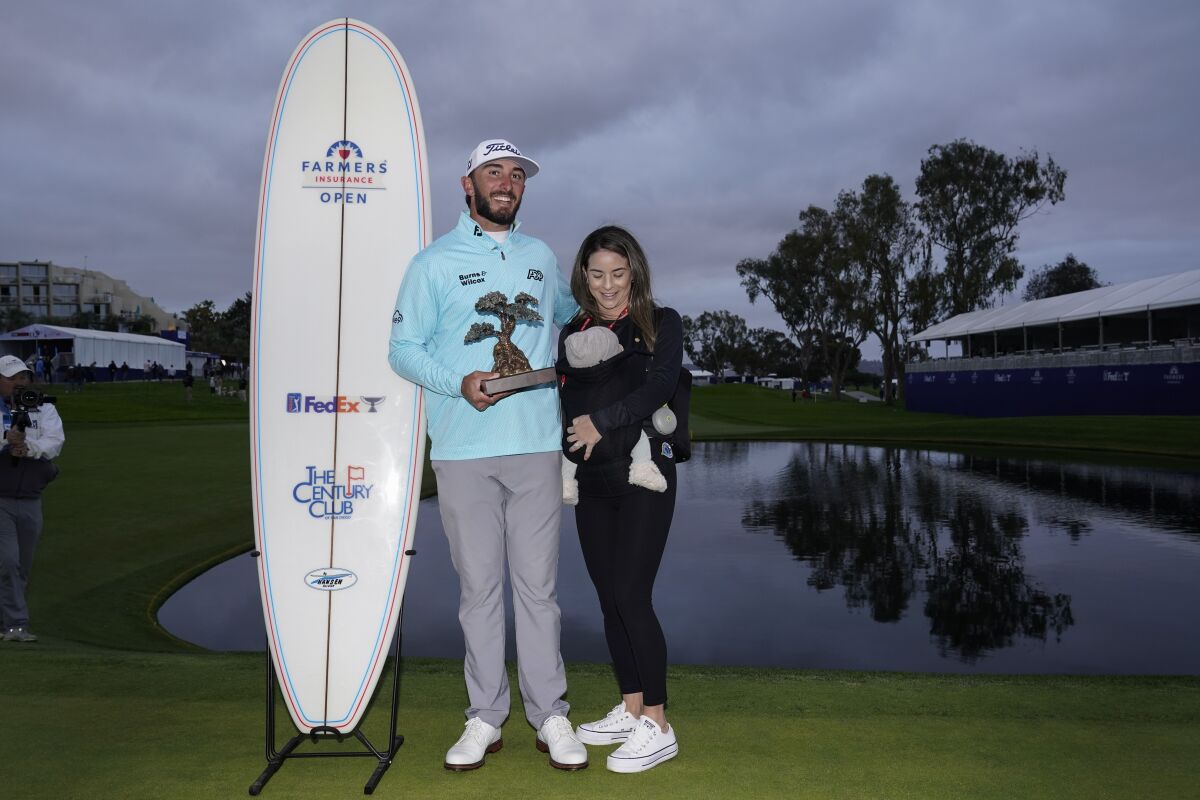 "That," Bradley said, "was so fun."
If you were one of the others swinging a club, it more likely felt like the type of campy fun reserved for a visit with a tax attorney.
Ryder, searching for his first Tour victory and ranked No. 283 in the world, positioned himself to be the first wire-to-wire winner at The Farmers since Johnny Miller in 1982. Then came 15. Then came disaster averted, an appetizer for disaster realized.
Holding a one-stroke lead and preparing to hit a second shot from the right-side rough, a club he pulled from the bag got caught up before falling and nearly making contact with his ball.
Once Ryder exhaled, he chopped the ball out of the cabbage with a cocktail of enough force and awkwardness that he leg-kicked like a baseball pitcher. An ouch omen of epic proportions, for those scoring at home.
The rough run in the rough rough torpedoed days of work as he fell off the top for good with a double bogey.
"Just had a terrible lie," Ryder said. "Went for a tough shot and just a combination of bad shots and a couple bad breaks. … It's a very fine line between par and double bogey out here on this course."
The seemingly ocean-sized opening was enough for Homa to pounce. He birdied 16 to retake a lead he would not surrender. Bradley moved within a stroke, but no one got closer as the winner canned a birdie putt to put a bow on things.
Homa struggled more to fight emotions off the course while explaining the meaningfulness of the victory after he and wife, Lacey, welcomed their first child, a son named Cam, on Oct. 30.
Then the amusing wit that made Homa a Twitter star returned.
"This (will) be the best-smelling diaper I've changed so far," Homa said in a post-round TV interview.
In a press conference later, he underscored the unfiltered joy of being a new father while pocketing a check for $1,566,000. Life and livelihood intersected so unexpectedly, in such a profound way, that his face seemed a mix of elation and momentary shock.
When the world stopped spinning for a brief second, diaper talked resumed.
"(Cam) can poop away," Homa said.
Amid the back-nine anarchy, Ryder remained mostly unflappable and positioned to hold serve until someone unlocked a way to leapfrog him. He never strayed away beyond 11-, 12- or 13-under until the fateful 15th.
On 17, another bogey followed.
"It happens fast," Ryder reasoned. "It is what it is."
When Homa, 32, birdied in front of his family parked at the edge of 18, only then did stomachs settle. The last five of his six Tour wins came in come-from-behind fashion.
He's gotten used to make uncomfortable situations feel comfortable.
"I think I do a good job when I'm behind of one shot at a time and knowing that it's a marathon," Homa said.
The thrilling, jaw-dropping, roller-coaster ride down the stretch left everyone involved a tad bit queasy.
Or maybe it was Ryder's joggers.