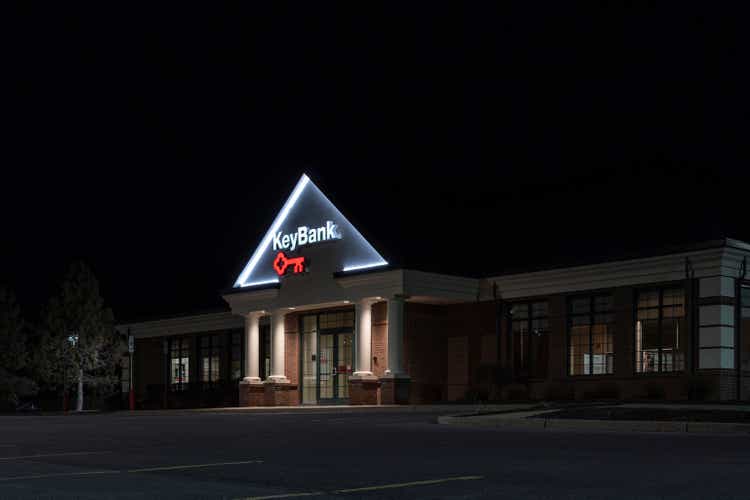 KeyCorp (NYSE:KEY) has long had something to prove to the market, particularly the real potential for the company's commercial banking efforts (including investment banking and payments) and the leveragability of the far-flung retail network. While I think management hasn't gotten enough credit for the former, the latter remains an issue and this stock has return to laggard status, logging significant and disappointing underperformance to its peers since my last update.
I appreciate the ongoing credit and margin concerns, but again I do think there has been more progress here than is reflected in the valuation. I don't have high hopes that 2023 will see significant revaluation of KeyCorp's prospects, as I expect pretty mediocre pre-provision profit growth compared to peers, but I do see opportunities for Key to outperform on credit and I think the company and shares could be a stronger relative performer in 2024 and beyond.
Lackluster Core Results, And A Sizable Hit From Provisioning
Much as I may think KeyCorp is underappreciated on the Street, I can't say that the fourth quarter was a particularly good one. There were a few positives like healthy commercial lending trends and well-controlled deposit costs, but the earnings were not so exciting compared to expectations or the performance of the peer group.
Revenue fell almost 3% year over year and rose about 1% quarter over quarter, missing by about $0.03/share. Net interest income rose 18% yoy and 2% qoq, missing by $0.03/share, with net interest margin actually contracting 1bp sequentially (to 2.73%) and missing by about 16bp, while earning assets rose less than 1% and likewise underperformed.
Fee-based income wasn't much of a help, declining 26% yoy and 2% qoq. Investment banking income dropped by almost half from the prior year, but did rebound sequentially (up 12%), while corporate service and card/payments both declined 7% qoq.
Operating expenses declined about 1% yoy and rose more than 4% qoq, adding another $0.015/share to the shortfall versus sell-side expectations. Compared to peers with efficiency ratios in the low-50%'s, the 61% efficiency ratio here underlines some of KeyCorp's profitability issues (and one of the stronger bear points, in my view).
Pre-provision profits fell more than 4% yoy and about 5% qoq, missing by $0.045 and coming in pretty lackluster next to peers. Provisioning added more than $0.13/share to the miss, ultimately driving a $0.17/share core bottom-line EPS miss.
Commercial Lending Holding Up, But Will Credit And Funding Outperform?
Sequential loan growth of 3% wasn't bad, and KeyCorp continued to do pretty well with its commercial lending operations, logging almost 4% sequential C&I lending growth and about 3% CRE lending growth. Loan yields rose 127bp yoy and 60bp qoq (to 4.57%), and the cumulative loan beta is pretty healthy, but spread income has been negatively impacted by swaps.
This period of elevated funding costs is a chance for KeyCorp to show the value of its retail branch business, and so far, the results aren't bad. Total deposit costs rose just 47bp yoy and 35bp qoq to 0.51%, one of the lowest among comparable banks, and interest-bearing deposit costs are likewise positive, with 69bp yoy and 50bp qoq growth to 0.75% in a quarter when many banks saw more than 80bp sequential increases.
What happens next will decide a lot about how the retail/consumer business is viewed, I think. The cumulative deposit beta of 13% is low relative to many banks, and KeyCorp has been slower to offer higher rates on deposits (including CDs). With that 13% qoq drop in non-interest-bearing deposits, though, I do have concerns about how Key's deposit base and deposit costs will evolve throughout 2023. If management can keep costs (and beta) under control and deliver on the high end of the 6% to 9% net interest income growth it guided for in 2023, I think it will do a lot for sentiment in the second half of 2023 and into 2024.
Credit is a harder call. Given a more conservative view of the economy, management is building reserves, with the allowance for credit losses up 14bp sequentially to 1.12% of loans. Non-performing loans were down slightly in the quarter and non-performing asset and charge-off ratios were stable, but few banks have really shown emergent credit weakness at this point, so this is a "developing story".
The Outlook
I do think there are underappreciated positives here. Management has done a good job of building the commercial bank operations over the past five and 10 years, with double-digit growth in C&I lending and a strong middle-market lending franchise that synergizes well with its investment banking operations (particularly in healthcare).
I'm also bullish on the prospects for leveraging its national middle-market lending verticals to generate more commercial loan and fee growth in the coming years. In healthcare Key is already a leading lender (and investment banker), and I see good growth potential in areas like renewables and affordable housing where the bank is already a top-3 player. There's still work to be done in payments, though, and I'm not convinced that Key has a compelling offering that can compete with larger banks like JPMorgan (JPM) and U.S. Bancorp (USB).
The consumer business still needs a lot more work. The far-flung retail network leads to higher costs and the bank often lacks scale in many of its markets, with low-to-mid single-digit market share in many markets where larger banks have double-digit share. Likewise, there's a lot of work to be done on the digital side, as sell-side surveys consistently return feedback that KeyCorp's digital consumer offerings aren't well-liked, and a below-average Net Promoter Score doesn't argue for a positively differentiated customer service experience.
Expanding Laurel Road (a digital banking offering for health care professionals) is a positive, but management really needs a comprehensive plan to drive better results from its consumer operations. In fact, it may be time to start looking at many of these operations as "get better or get out" – set target returns over a multiyear period and then look to sell operations that can't meet the hurdle.
I'm a little above the Street for FY'23 EPS and a little below for FY'24, but they largely net out. Over the longer-term, I believe around 4.5% core earnings growth is attainable, and that supports a fair value of around $22.50. I get similar results from a ROTCE-driven P/TBV and P/E approach (using a 10x forward multiple).
The Bottom Line
KeyCorp has been a "show me" story for some time, and judging by the stock price performance, it hasn't shown enough. I understand the disappointment with core profitability and I can likewise understand near-term concerns about funding costs and credit, but I think there has been more progress on the commercial side than is reflected in the price and I think if management more proactively (and more overtly) addressed the shortfalls in the consumer business there could be a more sustained improvement in sentiment. Barring that, valuation has me leaning positive, but I think it could take at least a quarter or two before KEY shares see much rerating, and possibly closer to a year.